What is Midcoast Park Lands?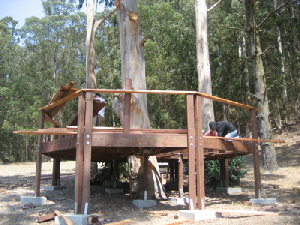 Midcoast Park Lands (MPL) is a non-profit organization, staffed by volunteers, that promotes land stewardship, conservation and recreation on the San Mateo Coast. As the manager of Quarry Park until mid-2008, MPL directed a variety of volunteer work projects which maintained and improved park quality. The county assumed operating responsibility for Quarry Park in 2008. During that transition, support from the County, volunteer projects and the Lions Club brought major improvements for the park, including new picnic tables and benches, a tree house, a kiosk, barbecue pits, and a vault toilet.
News Bulletin: Help Choose New Play Structures for Quarry Park: Meet at the Park Monday, June 7 - 7 p.m. >>click here for more info

MPL continues its support for Quarry Park through a "Friends of Quarry Park" group. The group advises the county on detailed issues of park operations and possible improvements. In 2009, the primary focus has been on starting a Community Garden. San Mateo County Parks worked closely with the Friends of Quarry Park and established a formal agreement with the Peninsula Open Space Trust (POST) that let MPL establish a community garden on a section of POST's Wicklow Property across from the Quarry Park meadow. A generous initial grant from a community member's family foundation enabled a solid start to garden operations, including fencing, raised beds, and site preparation and maintenance.

In the future MPL hopes to take this same multi-level, grass-roots approach to foster effective volunteer work to support other projects that create or sustain parks and trails on the Midcoast.
For more information about MPL please click on About MPL. To contact MPL, or to make a tax-deductible donation to MPL, visit the Contact page. The Links page contains links to related organizations whose activities affect parks and recreation developments on the Coastside.
---


---
Now available in a new printing, the story of El Granada, California. A detailed look at the creation of El Granada — a little known, but fully realized design by Daniel H. Burnham. Click on image for more information.
"There has long been in my mind a dream of a water-side improvement … Nowhere on earth is the ocean availed of by men as it should be. Perhaps we can set the pace and inoculate the men of the Pacific coast with the right ideas."
"I will … leave as much space as possible for the proper development of the future resort."
........ Daniel H. Burnham, quoted in Granada, a Synonym for Paradise